Posts Tagged 'emerging companies'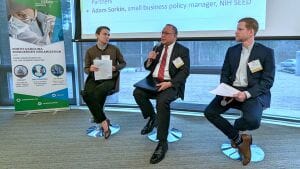 Panelists at the NCBIO Emerging Companies Luncheon and Forum held Wednesday, March 22, at the NC Biotechnology Center offering insight into the way their organizations choose investments, when to seek SBIR funding, engaging with a funding agency for the first time and more.
The forum was sponsored by Clancy & Theys Construction Company, JBK Associates International, Nikon and SAS.
The panel was moderated by Kseniya Simpson, Ph.D., associate, Hatteras Venture Partners.
Read More