Posts Tagged 'Clinical Trials Forum'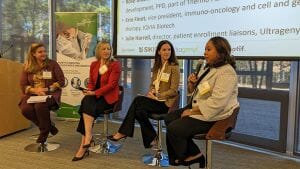 An expert panel explored the current state of clinical trial participation at the NCBIO Clinical Research Forum held Tuesday, Nov. 29. Panelists talked about ways to lower the barriers that stop patients from participating in clinical trials and discussed strategies for achieving diversity. They also explored the role of patient advocates and gave special consideration to efforts focused on rare diseases. 
Read More
Patients and research organizations came together at the NCBIO Clinical Trials Forum to talk about ways to make recruiting and retaining patients easier for clinical trials. The forum was held Wednesday, Dec. 8 at the NC Biotechnology Center.
Read More