NCBIO helps North Carolina's bioscience community fulfill its extraordinary promise as a source of economic opportunity and improved quality of life for citizens of North Carolina and people around the world. NCBIO works at the state and national levels to affect policy and drive positive change for the industry. Our member companies range in size from startups with a bare handful of employees to multinational corporations. Contact Membership Director Natacha Janvier for more information on becoming an NCBIO member.

NCBIO members receive exclusive and substantial discounts from dozens of national vendors through our BIO Business Solutions program. It's not uncommon for members to find savings that are well in excess of their membership dues. NCBIO members can save on lab supplies and equipment, shipping, office supplies, uniforms and clean room apparel, environmental services, insurance, bulk gases, secure document storage, news distribution and more.

NCBIO connects members to national, state and local law and policy makers. The NC Legislative Life Sciences Caucus educates our state legislators on the importance of the industry, and members regularly interact with lawmakers at our legislative reception, meetings at the General Assembly and during tours arranged by NCBIO.

Makes you better.
While NCBIO members are often competitors, they are also collaborators on issues and initiatives that affect them all. NCBIO brings experts together to share information and solutions on topics such as lab space, hiring and recruiting, fundraising, regulatory issues, workforce and diversity, equity and inclusion.
Stay updated on the activities of fellow NCBIO members, the offerings of our many partner organizations, money-saving opportunities, professional development events, federal and state issues affecting your business and more. Members get our emails with updates on events and special advisories, as well as a monthly newsletter.
Keeps you connected.
Take advantage of C-level networking among NBIO members who range from fresh startups to multinational corporations at forums and events throughout the year. Bend the ears of industry leaders and decision makers at members-only events hosted by NCBIO and partner organizations.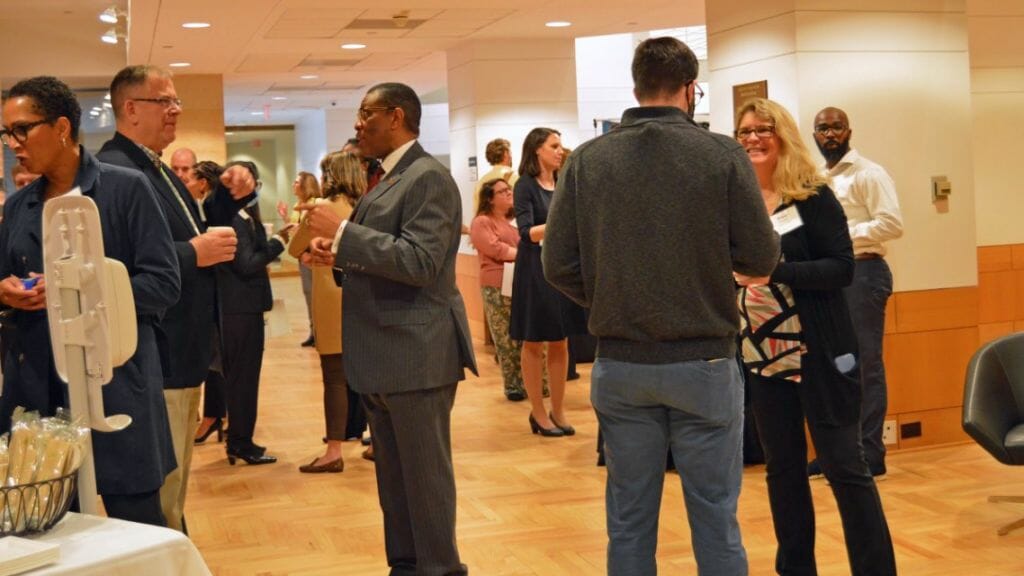 To meet the needs of a diverse life science community in North Carolina, NCBIO has established several meetings and events with informational programs and networking opportunities for our members. Thanks to the support of our generous sponsors, these events are free for NCBIO members. NCBIO events include the following:

NCBIO Life Science Forums are held throughout the year to provide a platform for members to share insights and compare strategies for addressing common issues. These forums enable NCBIO's entrepreneurial company members to discuss relevant topics related to funding, tech transfer, development and commercialization and more. Forums focused on medical devices bring together NCBIO's medical device industry members and allows them to share information and address strategic issues of common interest. Additional programs are scheduled as topics of interest are generated by members. To learn more, visit our Member Events page, or contact our office to submit a topic.
The NCBIO Biotech Manufacturers Forum brings together late-stage clinical development companies, commercial phase biomanufacturing pharmaceutical companies and related firms such as vendors and service providers. The BMF provides an opportunity to share information, discuss common concerns and address major strategic issues of shared interest. In recent years, these issues have included workforce development and infrastructure. The BMF was a leading force in  establishing North Carolina's internationally recognized NCBioImpact worker training consortium, which provides dedicated learning and hands-on training programs for North Carolinians seeking employment opportunities in the
biomanufacturing industry.
BMF membership is in addition to NCBIO membership.

The NCBIO Annual Meeting occurs in October, with the beginning of our membership year. More than 200 NCBIO members and invited guests come together to enjoy a program of speakers and panels addressing current topics of importance to the industry. We encourage you to network with staff, colleagues and on-site vendors
NCBIO's Legislative Reception each year provides an opportunity for NCBIO members, legislators and other elected officials to network with one another and to share information about life science industries in North Carolina.
Join Now
Apply online for membership in NCBIO and a representative will follow up with you shortly.
If you have any questions, contact Membership Director Natacha Janvier.