NCBIO Diversity, Equity and Inclusion
The mission of NCBIO, the NC Biosciences Organization, is to ensure North Carolina's business climate is favorable to the start up, growth and success of the life science industry. as well as to support the growth and development of organization members with products and services useful to member companies.
NCBIO understands that diversity, equity, and inclusion is critical to the continued growth and success of the life science industry in the state. NCBIO defines DEI as:
means all the ways that individuals
differ from one another, which goes
beyond race, ethnicity, and gender to
include gender identity, sexual
orientation, age, disability, military
service, religion and beliefs, scientific
background and education.
creates fair treatment and access by
establishing and upholding policies
and processes that remove and
prevent the formation of barriers for
not only staff and members but also
patients impacted by life science
industry innovations.
fosters an environment where all staff
and members are able to be fully
themselves because they feel they
belong and where members are
inspired to champion this inclusion at
their life science organizations.........................................
NCBIO is committed to working with legislators and public policy makers to ensure equity, as well as to continue to embed DEI within our offerings and resources so members, their organizations and the life science industry within the state of North Carolina will continue to thrive and impact the world with breakthrough innovations and technologies.
Resources from The Diversity Movement
NCBIO has partnered with The Diversity Movement to bring our members a wealth of content about diversity, equity, and inclusion. TDM is a results-oriented, data-driven strategic partner for organization-wide diversity, equity, and inclusion initiatives. NCBIO member who choose to work with The Diversity Movement will receive a discount on TDM services.
NCBIO DEI News and Activities
Celeste Warren, VP, Merck Global Diversity and Inclusion Center, NCBIO Roadmap to Diversity Keynote
"If we surround them (employees) with ... that culture of inclusion, we will reap the benefits within our organizations. We will have stronger marketing strategies. We'll have innovation in our science, in our technology. We will have better strategies when it comes to our sales colleagues. We'll have better technologies when it comes to our manufacturing practices. All that innovation, that creativity, will be unleashed in our business."

"We are dealing with all kinds of different things across a myriad of different issues, depending on your identity, how you identify across all of the dimensions of diversity, and we can't just shake that off. We'll be coming into the workplace. And so we want to make sure that our companies support us in those struggles."
"When it comes to diversity, equity and inclusion, don't be afraid to elevate your voice because when you elevate your voice, you're elevating it not just for yourself, but you're elevating it for thousands of others who have not yet found the power within themselves, the courage within themselves, to elevate their own voices."
Check out NCBIO's DEI playlist
NCBIO tries to record all of our DEI-related programming to make it available on demand on our YouTube channel. If you aren't able to view our DEI playlist embedded on this page, you can find it on YouTube.
Donald Thompson, founder and CEO of The Diversity Movement, spoke to NCBIO members about "Critical Conversations in the Workplace" in a Sept. 14 online forum. The event recording is available on NCBIO's YouTube channel. "The points of view and perspectives that people have are driven by their experiences for sure, but they're also driven by…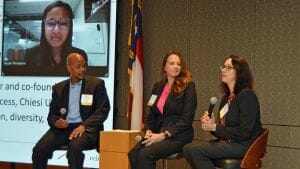 NCBIO members gathered at the NC Biotechnology Center Wednesday, March 9, to seek inspiration and guidance in pursuing their companies' diversity, equity and inclusion goals. Some key takeaways from the discussions included the need to weave DEI into everything the company does; it can't stand alone.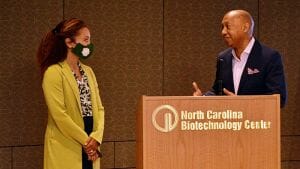 View Agenda (0.4MB PDF) View keynote slide deck (2.6MB PDF) NCBIO hosted its first event in the Roadmap to Diversity in Life Sciences series on Tuesday, Aug. 24, featuring experts in diversity, equity and inclusion from a number of North Carolina life sciences companies who shared their experience in recruiting and retaining a diverse workforce. …
Novo Nordisk publishes inaugural diversity and inclusion report with policies, progress and pursuits
Novo Nordisk debuted its first diversity and inclusion report in North America this week laying out its commitments — and progress — for employees, patients and external audiences.
The highlights include more inclusive parental policies, nine employee resource groups — including a new AllAbility disability awareness group — and specialized programs such as its weekly Diversity, Equity, Inclusion and Belonging open forum discussions.
BIO DEI report finds improvements in gender parity; more progress needed in racial and ethnicity representation
BIO released its third annual report that examines diversity, equity, and inclusion in the biotechnology industry. The report, "Measuring Diversity in the Biotech Industry: Tracking Progress in Small and Large Companies," investigates the state of DEI in the biotechnology industry and includes representation data, current DEI approaches and initiatives, and data comparisons to previous reports.
DEI resources from other life sciences organizations
NCBIO Diversity Committee Members
Co-chairs
A. Neil Jones, Vice President, Corporate Strategic Partnerships, Lindy Biosciences Inc.
Shaylah Nunn Jones, Government & Public Affairs, Novo Nordisk Pharmaceutical Industries, LP
Members
Melissa Bishop-Murphy, Senior Director, National Government Relations & Multicultural Affairs, and Co-Chair, Multicultual Health Equity Collective, Pfizer
Jenn Caldwell, Executive Director, People Empowerment, BioCryst
Alana Davis, Head of Biologics Program Management,

Fujifilm Diosynth

 
Gregory J. Dennis, M.D., Senior VP, Research and Development and Global Head, Therapeutic Science and Strategy, IQVIA
Drew Duncan, HR Business Lead, Global Manufacturing & Technical Operations, Biogen
Aniela Hansen, Sr. Human Resources Business Partner, Seqirus
Cherell Harris, Attorney, Smith Anderson
LaQuinta Jernigan, Executive Vice President, North America, mdgroup
George Kafes, Director, Talent Acquisition, BioCryst
Amber Niebauer, Events Director, NCBIO
Tiffany Oettinger, Pharmaceutical Manufacturing & Business Integration, Merck & Co.
Danielle

Pavliv

,

Director, Chief Diversity Officer,

SAS

Yvette Pittman, Manager, Employee Resource Networks & Workforce Initiatives; Global Diversity, Equity & Inclusion, Biogen
Anupam Raina, Director, Business Partner, TechOps IT, Purdue Pharmaceuticals
Marlene L. Sanders, Associate Director, State Government Affairs, Merck & Co.
David G. Smith, Head of Talent Acquisition, Fujifilm Diosynth
Brenda Summers, Director of Workforce Programs, NCBIO
John Wagner, Biotech Manufacturers Program Manager, NCBIO
Additional Subcommittee Members 
Marlene Spritzer,

Vice President, Lee & Associates 

 

Sheila Mikhail, CEO, AskBio

 

Joe Ruiz, Ph.D., President, Enzerna and Open Doors

 

Josh Jones, Manager, Frankel Staffing Partners

Juan Sénquiz, President and CEO, JC Automation