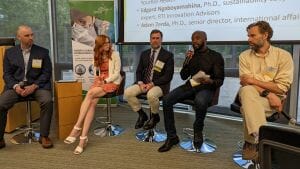 "Navigating Regulatory and Supply Chain Challenges Today and Tomorrow" was the topic of the May 16 NCBIO Medical Device Luncheon and Forum held at the N.C Biotechnology Center.
The discussion was moderated by Eric Hill, senior director, scientific and technical services for Boston Analytical. The event was sponsored by Clancy & Theys Construction Company, Hughes Pittman & Gupton, Mercury Business Services, UniClean Cleanroom Services and YourBio Health.
To start off, the panelists gave an overview of what was currently happening and most relevant to them in their working environment.
Read More