Life Sciences Caucus chairs field questions at Legislative Forum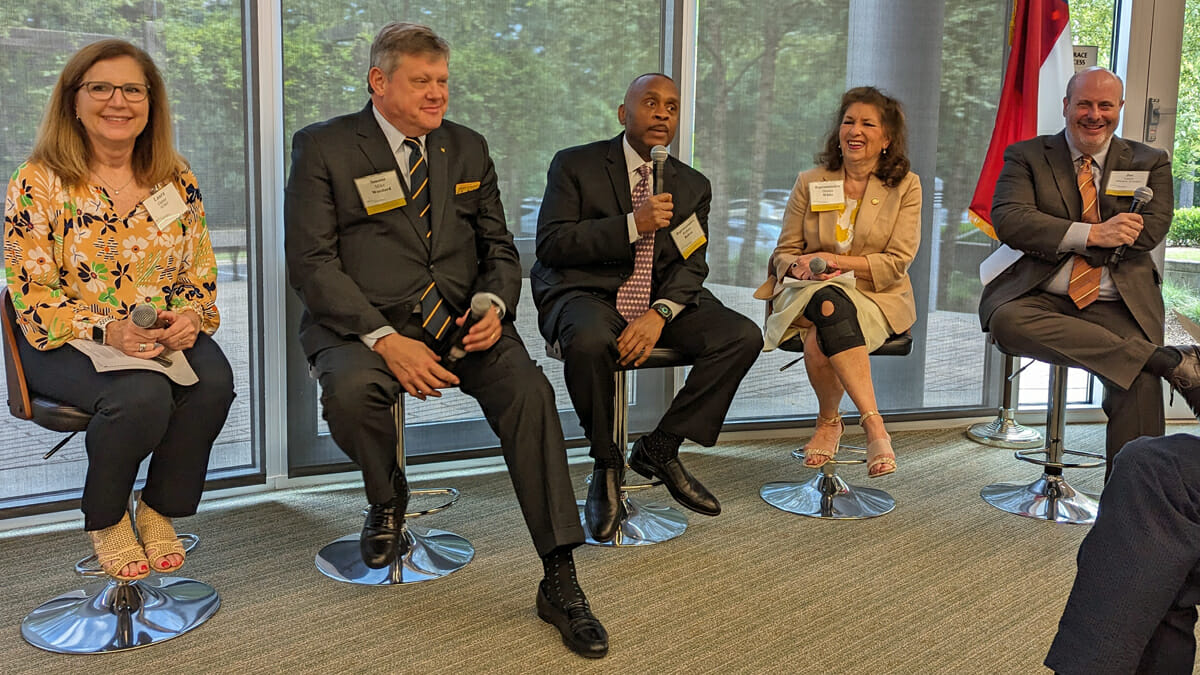 Don't expect a state budget anytime soon, encourage investment by the state and build relationships with your local leaders, not just those in state government, were some of the insights shared by the leaders of the N.C. General Assembly's Life Sciences Caucus at a luncheon and forum hosted by NCBIO on Tuesday, Aug. 1. 
Sen. Mike Woodard, Rep. Donna White and Rep. Robert Reives joined NCBIO members for a lunch and a discussion of state and industry issues at the N.C. Biotechnology Center. The discussion was moderated by NCBIO President Laura Gunter and Joe Lanier, principal at Milestone strategies. Legislative business prevented Sen. Paul Newton from attending. 
The forum and luncheon were sponsored by Clancy & Theys Construction Company, HITT Contracting, Michael Best Strategies, North Carolina Research Campus and Ultragenyx. 
"It's just a real honor to co-chair the Life Sciences Caucus to get to work with so many of you," Woodard said. "We've done some great work. We're very appreciative of Laura, Joe, the NCBIO team, for working with us all the time keeping us informed of what we can do. The four of us ... have, I think, had some great victories at the legislature to assist you all with pieces of legislation that actually came out of the caucus many times." 
Reives said the caucus was not about partisan politics but about making progress. 
"This has been a great place to be; the life sciences is where it happens," Reives said. "I think the thing I've enjoyed the most is this is the safe space. This is the one spot and the one caucus where it's not been about Republican or Democrat. It's not been about who's getting what or anything of that sort. It has been about trying to help people." 
The immediate concern of the General Assembly was passing a state budget for the next two years. Earlier in the year, legislative leaders had hoped to have a budget passed by the end of June.  
"I think that's what is really holding up the budget right now is whether we want to focus on lowering taxes again," White said. "Or if we want to invest a real big ton of money in a new NC innovations program." 
White was referring to a $1.4 billion innovation fund proposed by the Senate but not supported by the House. 
"Instead of going out and doing another big innovation thing, we need to continue to support the innovation opportunities and entrepreneurships we've just got started," she said. "My personal opinion is that we need to help out a lot but not go overboard right now." 
Reives said he felt good that there would be a budget by the end of August. 
"Anytime you have money to spend, there's the opportunity to invest," he said. "My thought is to try to invest in and support organizations you already have and things you know that work.  
Reives said that he believed it was important to invest in education and workforce training to support the high-tech industries that were coming to North Carolina.  
It still wasn't clear what budget negotiators had in store for NCBiotech and the One NC Small Business Fund, Woodard said. 
"Those of us who fight for those funds have been getting good feedback," Woodard said. "We've built the case for NCBiotech and for the One NC Fund. For relatively small dollars in a $30 billion budget, the dollars they leverage are critical." 
"The conversation around NC Innovation has been how do we fund it, not if we fund it or if we support it," he said. 
Infrastructure was also a focus of the discussion, particularly wastewater management. White spoke about the success the town of Clayton had partnering with Novo Nordisk and the General Assembly to build a treatment plant to handle the community and the company's growing needs.  
"That certainly helped Novo realize that our community was pleased that they were there," White said. "It has been a win-win situation for our community." 
Woodard gave another example of some changes in stormwater policy that were driven in part by Grifols last expansion of its Clayton plant.  
"When there are needs, please let us know," Woodard said. "We were able to work together as a team, but we had to hear from y'all what those needs are. And we had to hear from the local governments on how they can support you because in the end, we don't build that sewage plant. We don't run the water lines out to your facility. Those that's your local government folks, so know who they are, work with them so that we can all work together."