Supply chain during pandemic discussed at June Biomanufacturers Forum meeting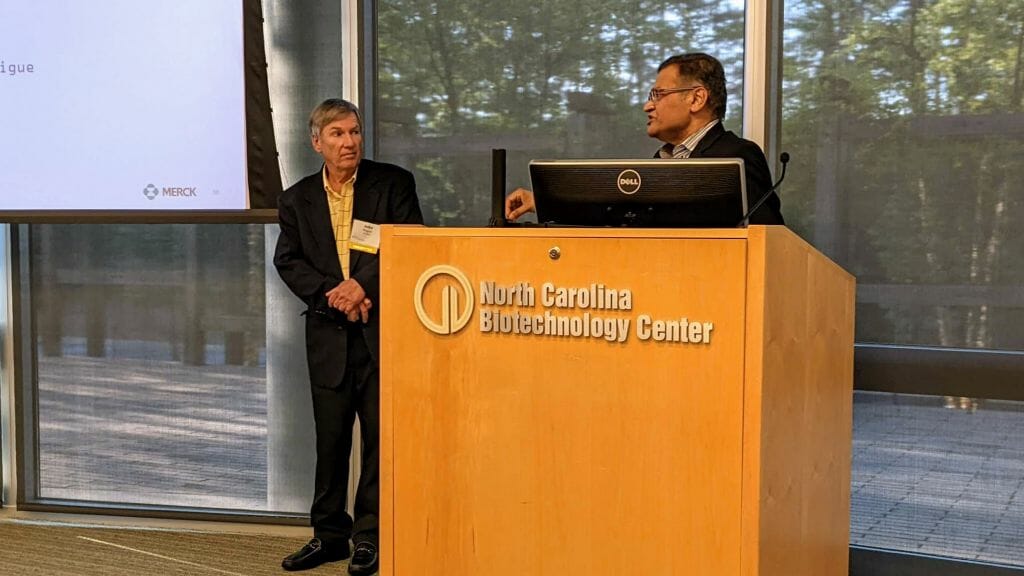 Representatives of Merck and NCBIO discussed the supply-chain difficulties and issues the COVID-19 pandemic created for the bioscience industry at the quarterly NCBIO Biomanufacturers Forum meeting held Wednesday, June 1, at the NC Biotechnology Center. 
John Wagner, BMF program manager for NCBIO, offered a global overview of the pandemic's effect on supply chains, while Vinay Khanna, executive director, supply chain management at Merck, focused on the difficulties faced by his company and by biomanufacturers.  
The pandemic strained a complicated global supply network at multiple points simultaneously, Wagner said. There were dramatic increases and shifts in demand paired with capacity reductions and shortages due to illness, quarantines and lockdowns. 
"When the pandemic hit, there was a temporary decrease in demand that resulted in manufacturers trimming inventory and production while logistics companies cut capacity," Wagner said. "The reaction of the system was to slow things down." 
The biotech and pharmaceutical industries are designed to run at a very high utilization rate but also have flexibility built in to respond to modest changes in demand, Wagner said. What no one really knew at the beginning of the pandemic was how long it was going to last, he said.  
The initial decrease in demand caused by businesses shutting down in response to the pandemic resulted in capacity reductions by suppliers. As the pandemic wore on, the workforce was diminished, reducing production and creating shipping bottlenecks. The bottlenecks were made worse by shortages of shipping containers and rising container costs. 
"If everything's available, the supply chain is invisible," Wagner said. "You never think about it, right?" 
How are businesses reacting? A McKinsey study found 93% of companies surveyed plan to diversify their sourcing through on-shoring or multi-shoring, Wagner said. Half of respondents in the pharmaceutical industry cited sole sourcing as a critical risk to their operation and 25% said they lacked insight into the risks of their suppliers. Supply chain mapping all the way to the original source is key to fully understanding the risks involved. 
"We all do supply chain mapping," Wagner said. "We know what happens in our network, going multiple levels on top of that is really important. You might buy milk from two different milk companies, but they get it from the same cow. And if something happens to that cow, it doesn't matter who you're buying from." 
Merck saw disruptions in the supply chain appear first in China and then spread to Europe, Khanna said. The problem was exacerbated for pharma supply chains, which are interconnected globally for components and raw materials, he said. Finding alternative sources was very difficult because of the long and tedious process required to qualify suppliers. Operation Warp Speed further complicated matters as an existing order from a supplier could be diverted to another customer who had priority due to their work involving COVID. 
"If you had that certificate from the government, you're first in the line," Khanna said. "That also means that everybody else who placed an order is pushed aside. And that just disrupted the whole thing in a major way that we had never seen before." 
Merck took several important steps to stabilize its supply chain and sources, Khanna said. First, the company aggregated its demand processes. Where previously several sites in the Merck network might be ordering the same or similar material, now the company combines orders based on the most urgent needs.  
"So what it did was it provided a buffer with all the variations on the supplier side," Khanna said. "So same material or similar material, we aggregated demand so that we are going to the same supplier as one voice where before it was all different orders and all different priorities." 
The company also ensured that its lead times on orders were updated constantly and added in additional lead time by placing orders farther in advance. This practice did require increasing inventory levels and carrying costs to maintain a margin of safety, which also increased the risk of stock expiring. 
Merck also took a conservative approach to ensure that its operations did not stop due to COVID infections.  
"The last thing the world needed was a pediatric-vaccines shortage during the pandemic," Khanna said. 
The company's elaborate COVID protocols helped ensure no disruption to operations during the pandemic with the safety of its employees remaining Merck's first priority throughout the pandemic, Khanna said. 
Finally, Merck stayed in constant communication with its suppliers and clear timelines to production impact due to criticality of material within a process.  
"With the availability COVID vaccines and medicines, the pandemic has become somewhat manageable but the challenges are not completely over yet, so we remain cautious and alert with our response," Khanna said.