Sen. Tillis joins NCBIO members for Q&A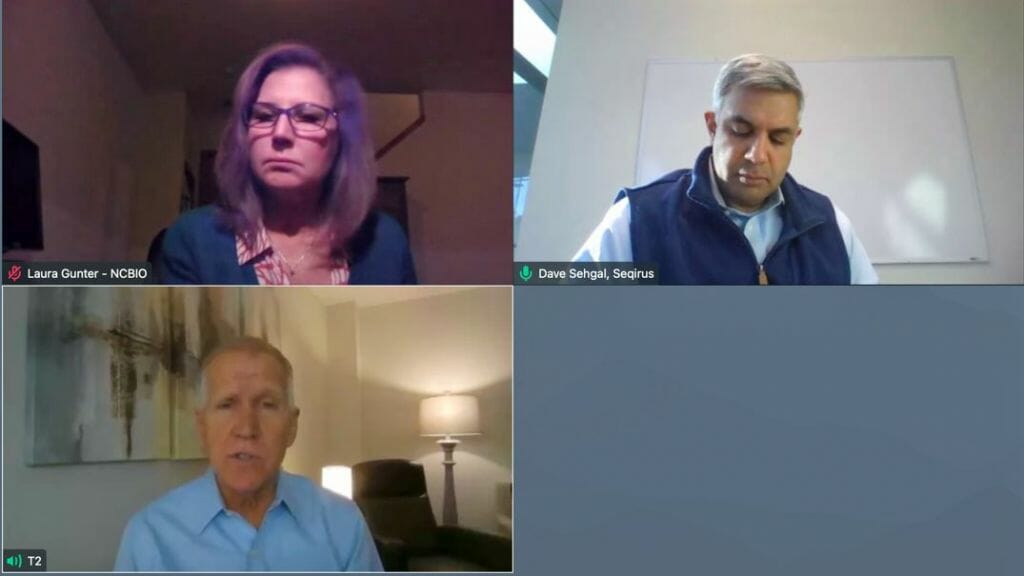 Sen. Thom Tillis addressed manufacturing capacity, China, intellectual property protections, workforce development and more with NCBIO members during a legislative forum held online Friday, Jan. 14. He emphasized that he and his staff were eager to hear the concerns, issues and ideas of North Carolina's life sciences industry. 
NCBIO members had the opportunity ask Tillis about a number of topics, including the following: 
Tillis said that he didn't believe the

Build Back Better Act

could be passed in its current form. He said that there were a number of problematic provisions and that there's an opportunity to create something better with more bipartisan support.

 

In addressing the life sciences industry's need for skilled workers, Tillis said that we need to be thinking about both the short term and the long term. Increasing the number of U.S. graduates with advanced training in the life sciences is a challenge that will take years to solve, he said. In the meantime, the U.S. should make legal immigration easier for foreign citizens who have the advanced training our industries need.

 
We have given industry few choices other than to go overseas for manufacturing, and China seeks to be a military and economic superpower by 2050, Tillis said. The U.S. needs to counter Chinese investment in South and Central America and help create manufacturing capacity in areas like southern Mexico, he said. It is crucial that we create near-shore manufacturing options among nations that are reliable allies, he said.

 
After Tillis left the call, his staff members Senior Policy Adviser Bill Bode and Chief Counsel Brad Watts took over answering questions for members. Watts and Bode stressed that the doors of the senator and his staff are always open, and they encouraged NCBIO members to contact them directly with any issues or questions. NCBIO President Laura Gunter asked members to copy NCBIO on any correspondence with the senator or his staff so that the organization can assist, follow up and share information. 
Tillis has agreed to come back in person to further discuss geopolitical issues and supply chain issues. The two issues are intertwined in his view and of critical importance to the life science industry, he said. NCBIO is working with the senator's office to coordinate a return engagement.