2021 NCBIO Annual Meeting returns to in-person, Samulski delivers keynote
Nearly 200 people attended NCBIO's 2021 Annual Meeting Tuesday, Oct. 5, with almost 120 choosing to be there in person and about 75 opting to participate online.  
Attendees heard discussions of drug pricing, the challenges of a launching a startup, federal issues affecting the industry and the patient's role in clinical trials, as well as a powerful talk from AskBio founder Jude Samulski on the story of gene therapy in North Carolina. They also selected new board members and met the first recipients of the Samuel M. Taylor Memorial Life Sciences Scholarships. 
North Carolina, the cradle for human gene therapy: A 30–year perspective
The highlight of the 2021 Annual Meeting was a powerful presentation by Jude Samulski, Ph.D., president and chief scientific officer of AskBio, who told the story of his journey using adeno-associated virus to develop treatments for rare diseases, especially those that affect children. 
Samulski came to North Carolina in 1993 to take a faculty position at the University of North Carolina at Chapel Hill with support from the NC Biotechnology Center. 
"I did a postdoc at Princeton, and at Princeton, we developed what we refer to as the vectors of today," he said. "We took out the genes of the virus, put in foreign DNA and then used these capsules to package our DNA and then shuttle it back into target cells." 
Samulski created the UNC Gene Therapy Center at UNC, and it was soon supplying most of the country and the world with AAV vector. He co-founded AskBio in 2001. Along with his partners, he also created two AskBio subsidiaries – Bamboo Therapeutics, which focused on Duchenne muscular dystrophy, and Chatham Therapeutics, which focused on genetic solutions for hemophilia. Since then, Pfizer has acquired Bamboo and Baxter (Takeda) acquired Chatham. AskBio is now an independent subsidiary of Bayer. 
"This is the beginning of a new era we're in," Samulski said. "We're in the very beginning of being part of something that will transform lives forever. What will get solved in orphan diseases will become available for those of us who have cholesterol problems and diabetes and in heart failure and things like that."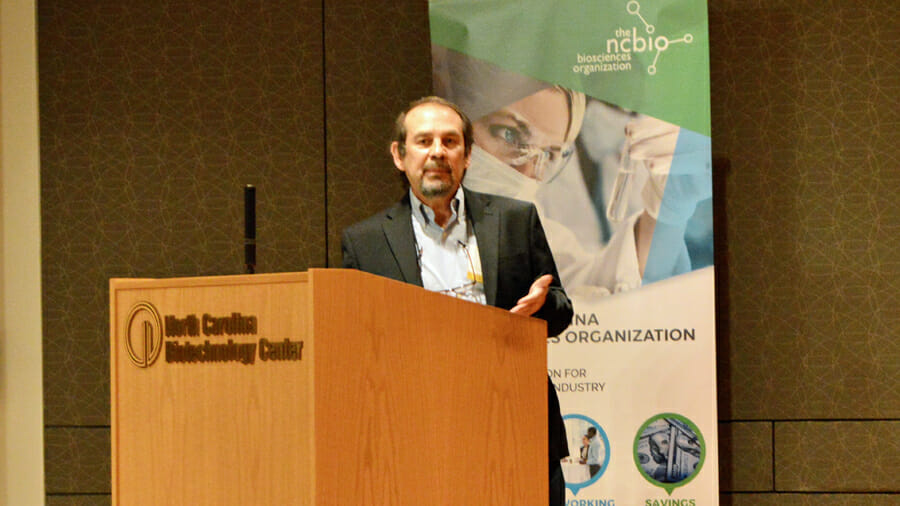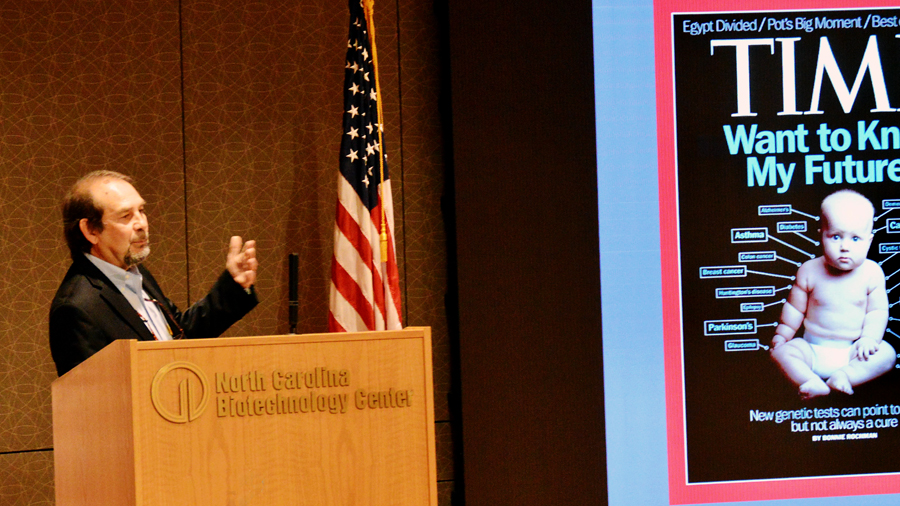 NCBIO Annual Dinner panelists tackle government price fixing
The Annual Meeting event kicked off with a dinner Monday, Oct. 4, that featured talks on drug price fixing by U.S. Rep. Greg Murphy, M.D., and health economist David Ridley, Ph.D., the Riddick Professor of the Practice at the Duke University Fuqua School of Business.  
Murphy said that, as a nation, we have to find a way to get drug costs under control while protecting investment and innovation in the biopharma industry. 
"Look at what's happened with hepatitis. It was a fatal disease," said Murphy, who is a practicing urologist in Greenville. "And now it's a six-week treatment. It's a curative treatment, a curative treatment that costs a lot up front, but look at the back end and how much it saves. But that's only done through innovation and capital and, yes, with profit." 
Ridley talked about ways to lower drug costs and increase innovation by incentivizing pharmaceutical companies through pull and push strategies. 
"Pull mechanisms create a market and pull drugmakers, pull investors into a commercial market that's conditional on their success," Ridley said, offering the priority review voucher program created in 2007 as an example of a prize (now worth about a $100 million) that creates a market. 
"Push is we're going to lower your costs, make it cheaper for you," he said. "Examples of push mechanisms are tax credits, and the NIH, which is lowering the cost of research by making us aware of potential mechanisms of action that we might then go and test out in large scale clinical trials." 
After their talks, Murphy and Ridley participated in a discussion moderated by Mike Mattoon, the Biotechnology Innovation Organization's vice president, federal government relations and NCBIO President Laura Gunter, M.B.A. 
The Annual Meeting's panel discussions kicked off with a discussion about the challenges faced by startup companies. Panelists talked about how they thought about financing from the beginning, what the biggest challenges were, if they are where they thought they would be and how COVID has affected their operations. Moderated by Neal Fowler, M.B.A., chairman of the NCBIO Board of Directors and CEO of Pathalys Pharma, the panel comprised 
Juliana Blum, Ph.D., co-founder and executive vice president, corporate development for Humacyte;

 

Buck Phillips, COO and CFO of Ribometrix;

 

Ken Reali, CEO of Bioventus; and

 

Eric Ward, Ph.D., co-CEO of AgBiome.

 
"There will be swings of the pendulum along the way," Phillips said. "Surround yourself with people who know that, too. You have to survive as a team. You don't want that moment when the pack of wolves turns on each other." 
"If you think you want to start a company, it's really important to know why you want to do it," Ward said. "It doesn't matter what the answer is, but there are many times you will ask yourself why you're doing it, so you need to know!"
Issues in play at the federal level
The next panel explored what is and isn't happening in Congress right now that will affect the pharmaceutical and biotechnology industries. Moderated by Joe Lanier, J.D., founder and principal of Milestone Strategies, the panel comprised 
Christine Harhaj, director, advocacy and strategic alliances for

the Pharmaceutical Research and Manufacturers of America

;

 

Mike Mattoon, vice president, federal government affairs at BIO;

 

Sophia McLeod, director, government relations for the Association of Clinical Research Organizations; and

 

Hasan Shah, director, grassroots and member engagement, AdvaMed.

 
Panelists discussed the pandemic, the current state of the FDA, the TRIPS waiver and IP protection, along with the reconciliation package and the risk of it implementing government price fixing for certain drugs. 
"Recognize that the people who will write the bill, who will sign the bill, and then will implement the bill, are ultimately people who have a deep skepticism of our industry, and are really not in a place to want to help make things more efficient for us," Mattoon said. 
The P-factor working together
The last panel of the day discussed the P-factor – the patient – in drug development.  Moderated by Allison Grannis, M.B.A., alliance development manager at Pfizer, the panel comprised 
Tom Croce, vice president, advocacy at bluebird bio;

 

Jenny Klein, preclinical program manager at AavantiBio and mucolipidosis type III patient;

 

Denise Messer, director, design analytics at IQVIA Biotech; and

 

Justina Williams, M.S.W., patient engagement coordinator, Piedmont Health Services and Sickle Cell Agency, and sickle cell patient.

 
"I feel like with sickle cell and other rare diseases and ultra-rare diseases, we're more than the disease," Williams said. "By including patients' voices, clinicians and researchers can better understand the patient's perspective and have a better outcome." 
Messer talked about an idea they were developing at IQVIA called the patient friction coefficient.  
"What is your current treatment like? What do you need to do for your disease today versus what is that clinical trial asking you to do?" she asked. "What's going to be that friction or point of pain and maybe, if we can eliminate or alleviate it while we design that trade off, it will make it easier for those patients to participate and reap the benefits." 
Inaugural Sam Taylor scholarship recipients recognized
Thomas Stith, M.B.A., president of the North Carolina Community College System, recognized the recipients of the newly established Samuel M. Taylor Memorial Life Sciences Scholarships. They are  
Stephanie Alston of Wake Forest, who is studying clinical trials research at Durham Technical Community College;

 

Robert Voissem Jr. of Dudley, who is studying biotechnology at Wilson Community College; and

 

Alex White of Plymouth, who is studying medical laboratory technology at Beaufort County Community College.

 
Voissem was able to attend the Annual Meeting in person while Alston and White participated online. 
"You're entering a promising and rewarding field," Stith told the recipients. "You have worked hard to get where you are and your work ahead of you in the area of life sciences will continue to help you position not only yourselves in your career but position North Carolina as a world leader." 
New board members approved
NCBIO members voted to accept the following new members to the organization's Board of Directors: 
Joseph Ruiz, Ph.D., president, Enzerna Biosciences

 

Marlene Sanders, associate director, government accounts, Merck & Co.

 

Kseniya Simpson, Ph.D., associate, Hatteras Venture Partners

 

Christine Vannais, chief operations officer, FUJIFILM Diosynth (Vannais will replace Martin Meeson for the remainder of his three-year term running through 2023.)

 
Additionally, the following 10 current board members are beginning a second three-year term running through 2024: 
Tom Adams, Ph.D., CEO, Pairwise

 

Chuck Blatchley, director of engineering, Grifols, Inc.

 

Christopher Capel, J.D., partner, Smith Anderson

 

Matthew Cooke, partner, Davis Moore

 

Alex Graham, M.B.A., vice president global sales & marketing operations, Thermo Fisher Scientific

 

Mark Harbaugh, M.B.A., senior director, professional affairs, Bioventus

 

Mike McBrierty, M.P.P., director, state public policy and government affairs, Biogen

 

Sheila Mikhail, M.B.A., J.D., CEO, AskBio

 

Kyle Rasbach, Pharm.D., Ph.D., managing partner, Pappas Capital

 

Scott Sewell, vice president, external affairs and corporate compliance officer, Cook Medical

 
NCBIO thanks the sponsors of the 2021 Annual Meeting