NCBIO members inform state legislators at July Life Science Caucus meeting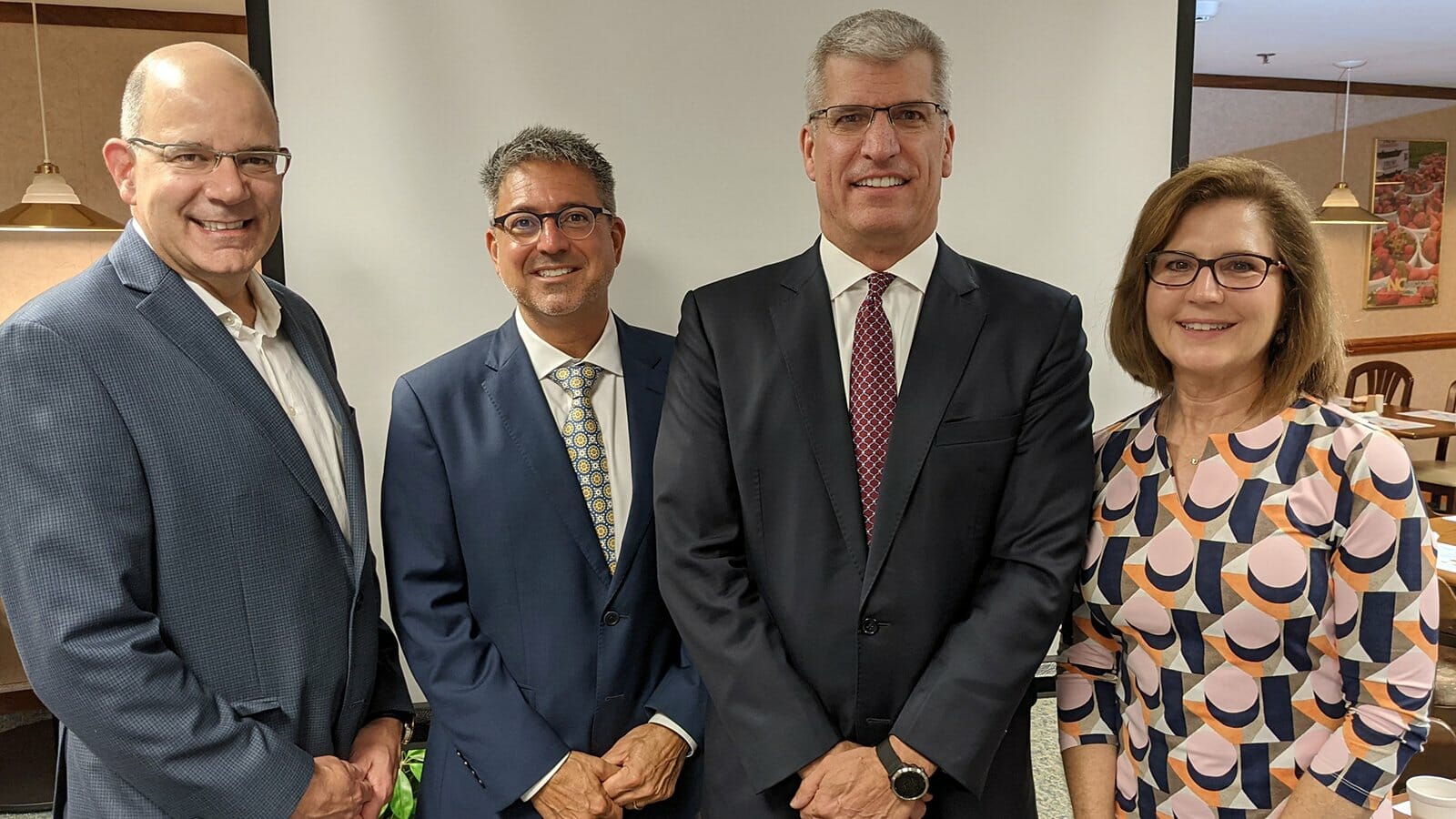 Representatives from G1 Therapeutics, United Therapeutics and Thermo Fisher Scientific shared insights from their companies with members of the North Carolina General Assembly's Life Science Caucus on during its meeting held Wednesday, July 21.
Caucus co-chairs Sen. Mike Woodard, Sen. Paul Newton, Rep. Donna White and Rep. Robert Reives attended, along with about a dozen other legislators and company representatives.
Newton welcomed attendees and praised North Carolina's business environment, saying "We want companies to say, 'Why would we want to be anywhere else?'"
Reives
stressed the importance of the industry, saying "We understand how real the life sciences are to North Carolina."

Jack Bailey
, CEO of G1, told caucus members that North Carolina needs more homegrown companies like G1, which was spun out of the University of North Carolina at Chapel Hill and initially funded by Durham-based Hatteras Venture Partners. The FDA recently
granted Fast Track designation to G1's COSELA
for use in combination with chemotherapy for the treatment of locally advanced or metastatic triple negative breast cancer. COSELA is
the first therapy in its class to reduce the frequency of chemotherapy-induced bone marrow suppression in adults receiving certain types of chemotherapy. It was originally approved for use in treating extensive-stage small cell lung cancer
.
Bailey brought two issues to the attention of the lawmakers:
Like most states, North Carolina requires manufacturers to have a license to produce a drug. Unlike many other states, North Carolina requires the drug have FDA approval before the manufacturer can apply for a license, which creates a significant launch delay. Baily suggested that drug manufacturers be permitted to apply in advance for a license that is contingent on FDA approval. Once the drug is FDA approved, the license becomes valid. The legislators present seemed to think his suggestion was a good one and expressed their intention to take action.
Bailey also suggested the state take a look at how the franchise tax affects prerevenue companies. The franchise tax treats investment capital these companies raise as revenue, which robs them of the resources needed to move the company to a paying basis.
Gil Golden, chief medical officer of United Therapeutics, was there to tell legislators about UT and its goal of creating artificial organs for use in transplant patients.
United Therapeutics was founded to find a treatment for pulmonary arterial hypertension, which affects just 45,000 patients in the U.S. It has since expanded its focus to find ways to increase the supply of organs available to those who need transplants. Their efforts range from modifying pig organs so that they can be used in humans to creating an artificial lung by growing a patient's pulmonary cells on a 3D printed scaffold.
Golden also emphasized UT's commitment to being a good corporate citizen through actions such as converting to a public benefit company, generating 20% of its own power from solar and striving to achieve zero net carbon emissions. United Therapeutics is even developing its own fleet of drones that can quickly deliver newly made organs to hospitals as they are needed.
Alex Graham, vice president of commercial operations for Thermo Fisher Scientific, briefed attendees on the company's latest news, such as its recent purchase of CRO-giant PPD, Inc. Thermo Fisher has a large footprint across North Carolina with operations in Asheville, High Point, Durham and Greenville. The Greenville plant will begin fill/finish sterile manufacturing services and supply packaging for Moderna's COVID-19 vaccine in the third quarter of this year and is expanding and hiring 500 more employees. 
Graham said that Thermo Fisher's success in the state hinges on finding enough qualified talent to fill its positions. The company worked with the North Carolina Biotechnology Center to create the Pharma K12 Workforce Development Program that offers industry-focused training to high school graduates in Pitt Country and a path to jobs that pay $45,000 on average annually to employees with an associate's degree.
White and Woodard wrapped things up with White saying what an

honor it was to serve such a vital industry to the state.

Woodard said

he "was excited as he could be" after hearing the presentations by the NCBIO members.