NCBIO forum offers guidance on creating new lab space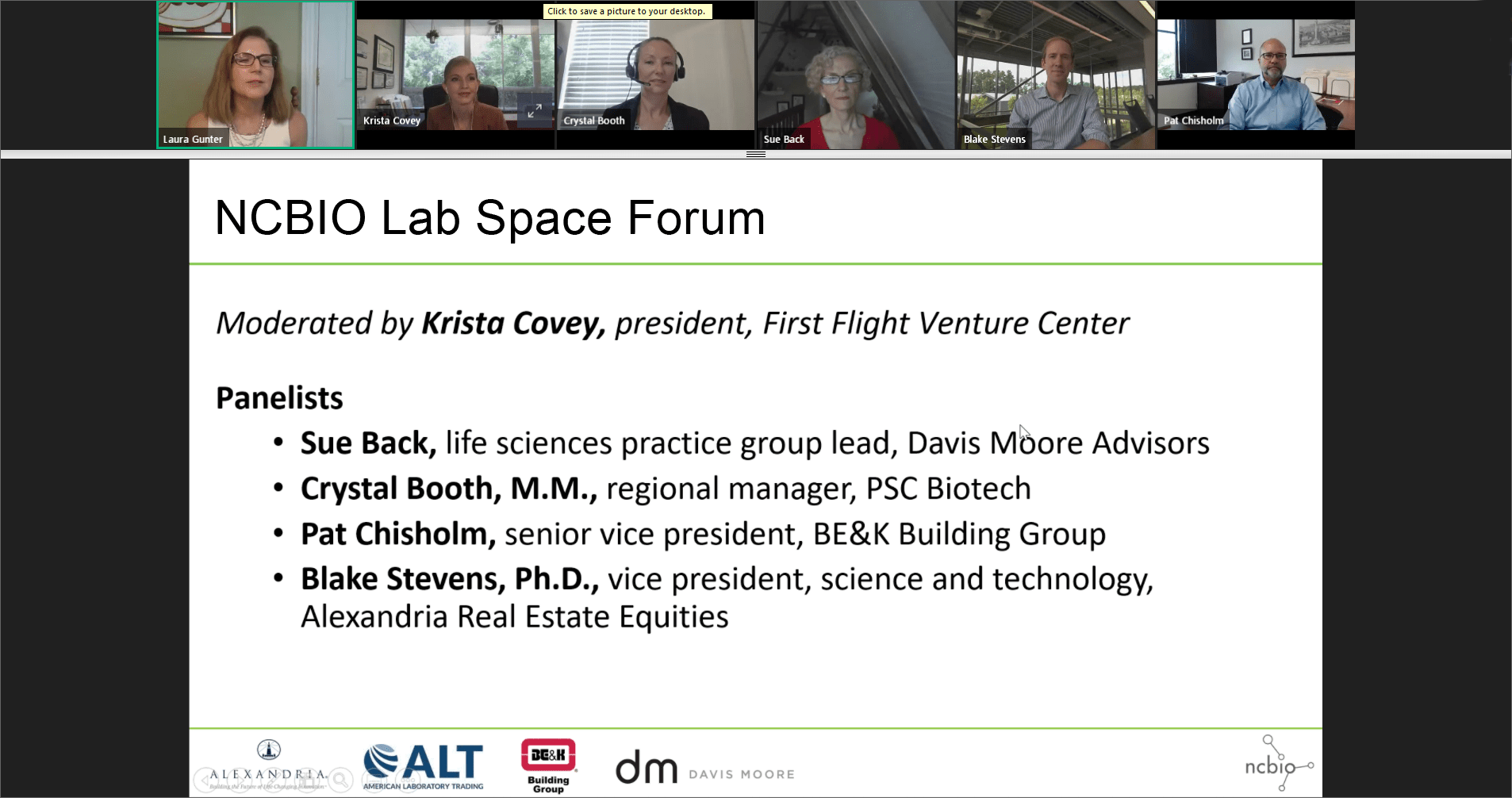 When it comes to creating lab space for a new or established business, getting your team together early and allowing plenty of time to plan are the keys to success, according to panelists assembled for NCBIO's Lab Space Forum held online Tuesday, July 13.  
The pandemic has caused employers to pause and rethink the office space needed for employees, said NCBIO President Laura Gunter as she opened the forum. Many of these employees will return to work on site, but for others working remotely may continue. For office space that is no longer needed, employers are repurposing those spaces for expanded lab or flex space.   
NCBIO assembled a panel of experts to discuss the opportunities and pitfalls that come from trying to convert office space to lab space. Krista Covey, president of First Flight Venture Center, served as moderator of a panel that included 
Sue Back, life sciences practice group lead, Davis Moore Advisors;

 

Crystal Booth, regional manager, PSC Biotech;

 

Pat Chisholm, senior vice president,

BE&K Build

ing Group

; and

 

Blake Stevens, Ph.D., vice president, science and technology,

Alexandria Real Estate Equities

.

 
The event was sponsored by Alexandria Real Estate Equities, American Laboratory Trading, BE&K Building Group and Davis Moore Advisors. 
Some spaces convert more easily than others
"When we're acquiring properties, we look to see if they're lab ready," Stevens said. "In RTP, we're usually going with purpose-built buildings rather than doing conversions." 
Single-single story buildings can often work well for lab conversions, Back said, because they usually have the needed ceiling height along with space on the roof or outside for equipment. She cited the conversion of a former warehouse club in Morrisville as an example of a project that went well. Chisholm worked on the conversion of an outlet mall that offered a lot of space but required significant reinforcement of the roof to be viable. 
Trying to turn office space in a multistory building into lab space can be troublesome because there's usually no way to get the needed ceiling height because of adjacent floors. Stevens joked about having to turn a 20-story building into a 10 story one. Accessing the roof or outdoor space can be problematic or impossible. 
Chisholm pointed to utilities as a potential sticking point. 
"Lab buildings take a lot more of everything than office buildings do," he said. You may not be able to upgrade those basic services in a building with other tenants with lesser needs. 
Experience matters
"We on the advisory side need to understand the science of our clients," Back said. "You need to understand what they plan on doing in the space." 
She recounted the story of a client in existing space who kept an umbrella in her office because condensation often caused it to "rain." The HVAC system couldn't keep up with the heat being created. 
"Consult a lab specialist and get quality assurance for what you're doing," Booth said. "You want someone who knows to account for the thermal load of equipment." 
Chisholm agreed, saying that you want to go with professionals who are lab designers.  
"One person can't do it all," he said. "You need a range of experience." 
Assemble your team early
When embarking on a conversion project, Booth said that it's crucial to have the right team in place as early as possible and to know what your products are going to be. 
Chisholm suggested bringing your construction group on board at the same time as your architect and engineer. That way you can design and budget at the same time, which allows you to align your business decisions with expected deliverables. 
Stevens pointed out that having your team in place early allows them to advise you on fundamental decisions such as how much space do we need? Square footage can be a hard concept to visualize so he usually encourages clients to think in terms of seats: how many scientists are working here? Then he can define how much space comprises a "seat." 
Back advised pre-revenue companies to look for a short-term lease in a plug-and-play facility instead of trying to build out their own space. 
Chisholm agreed. "If you're a venture company, go turnkey because you can't afford the time it takes to plan and upfit a space," he said. "It's the big players that are better at long-term projects."