BMF covers improving manufacturing with automation, digitization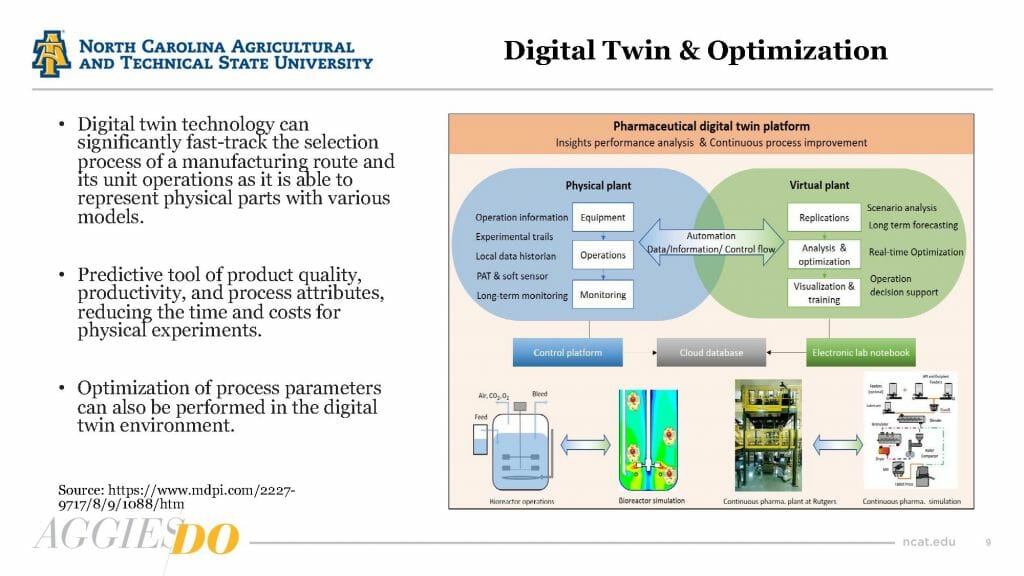 Presenters from Novozymes, Pfizer and North Carolina A&T State University discussed optimizing production processes using automation and digitization during the June 8 Biotech Manufacturers Forum held online by NCBIO. 
The forum featured presentations by the following experts: 
Mike Hess

, senior manager of science and technology, Novozymes North America 

 

Charles Marlowe

, senior process engineer, and

Nicholas Gamache

, process scientist, Pfizer 

 
Salil Desai

, Ph.D., University Distinguished Professor and director of the Center of Excellence in Product Design and Advanced Manufacturing, NC A&T State University

 
Novozymes 
Manufacturing at Novozymes starts with output from microorganisms and raw materials that goes through fermentation, purification and formulation stages to produce enzymes. Hess said that digitalization and data analysis were the key tools in Novozymes's tool box that has allowed the company to achieve 5% improvements each year over the last 20 years. That's the equivalent of building a second manufacturing plant, he said. 
Novozymes collects data from 105,000 sensors covering nine production sites on four continents, Hess said. The company logs 2 million data points every day and generally uses off-the-shelf applications to manage everything, along with some custom web apps. 
"Our rule is don't reinvent the wheel," he said. "If there's a good commercially available product out there, we should use that instead of building our own." 
Pfizer 
Marlowe and Gamache described Pfizer's approach to process monitoring and robustness in its Sanford, North Carolina, plant. Pfizer decides what data to monitor and collect based on a set of Right First Time procedures. RFT is a risk-based approach where the potential consequences of a process exceeding a preset limit determines the response. 
Pfizer monitors process data in real time using multivariate and univariate batch control charts. 
"What used to take days or weeks to assess in a paper-based system can now be done in hours," Marlowe said.    
NC A&T 
To wrap up the presentation, Desai provided an overview of the use of data analytics, real-time monitoring and artificial intelligence in biomanufacturing.  
Analytics and machine learning can help biotech companies precisely distinguish impurities and degradants and allows quality-control teams to quickly converge on optimal processes. Real-time monitoring is used to sense process deviations in production batches, and the use of artificial intelligence allows for the creation of predictive models to evaluate key parameters.  
Used in combination, these tools can create a digital twin of the manufacturing plant that can be used as a test bed for optimizing process parameters. 
"Digital twinning is the future of biomanufacturing process," Desai said.