Depending on people, being flexible and agile and remembering the lessons learned during this pandemic were some of the key points shared by the panelists participating in NCBIO's Medical Device Forum held online Wednesday, May 19.
The forum was sponsored by Brex, Jenkins Wilson Taylor & Hunt, and PSC Biotech and moderated by Julie Fife, Ph.D., vice president, program management at Grant Engine. The panelists were
Kendall Foster, vice president, technical operations for ApiJect;
Don Gurskis, CEO and co-founder of Arctx Medical;
Alyssa Schmidt, associate director, global regulatory consulting of Syneos Health; and
Tony Voiers, chief executive officer of Advanced Chemotherapy Technologies.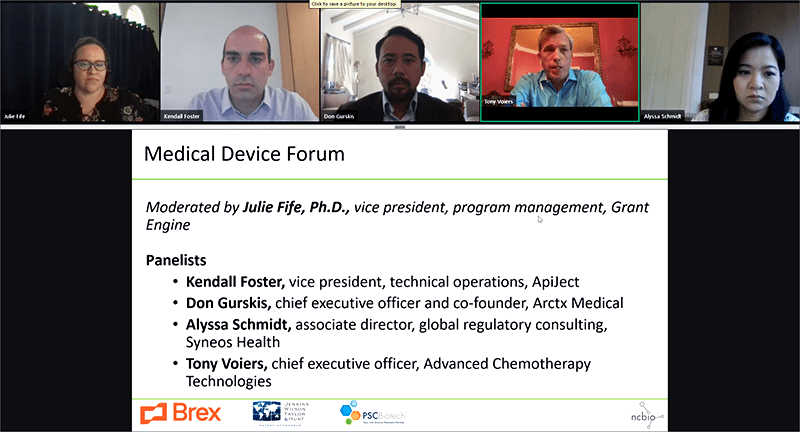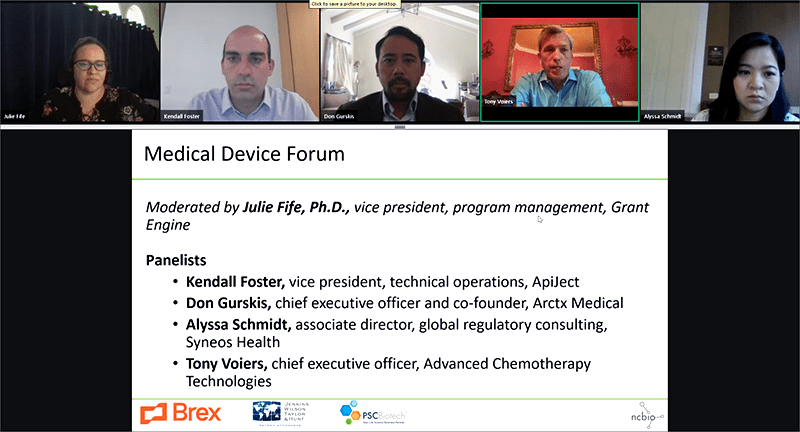 The pandemic has caused investors, regulators and government agencies to intensely focus on COVID-19. Panelists shared their experiences maintaining operations, getting funding, receiving regulatory approval and moving products to market during the pandemic, especially when the products were not COVID related.
"There are important life-saving technologies, still in various stages of development, that companies are attempting to guide through a process fraught with barriers in the best of times," said Laura Gunter, executive vice president of NCBIO. "Now these companies are struggling against the immediacy of COVID-19 and the demands it has placed on our collective infrastructure."
ApiJect, which develops and manufactures injectable medicines, saw itself drafted into the COVID-19 response. Foster said ApiJect had to scale up immediately and learn to develop a product and its manufacturing process at the same time.
"COVID was fundamentally transformative for ApiJect," he said. "We now work on bioemergencies and pandemic response. The U.S. government became our biggest customer."
During 2020, Don Gurskis was chief technology officer of AEGEA Medical (now Mara),and the pandemic changed the trajectory of the company, he said. They had to look to be acquired instead of finding partners to advance and distribute their technology. The shutdown caused by the pandemic made finding a buyer that much harder as it shrank the pool of potential candidates. It also became difficult to demonstrate the value of their product in hospitals and medical offices.
"A startup has to be nimble," he said. "There's no safety net for us."
At Advanced Chemotherapy Technologies, everything seemed to stop in the early months of the pandemic as funding dried up, Voiers said. The company focused on staying afloat with a PPP loan and executives taking salary cuts so cleanroom employees could continue working, he said. Things improved in the second half of 2020, as communication with the FDA resumed, and the company closed on $8 million in funding.
While the supply chain is still thin, and it's still difficult to recruit talent, Voiers said he's bullish about the future as the company begins to develop additional products and leverage remote workers.
"People drive the company," he said. "If you lose the people, you lose everything."
Syneos' Schmidt saw COVID-related products and emergency authorizations dominating the regulatory world early in the pandemic but is now starting to see a gradual transition out of emergency mode by government agencies.
Schmidt said that companies need to learn the lesson of being nimble, prioritizing their efforts and having patience with the FDA and other regulators.