NC
BIO

, the North Carolina

Biosciences Organization

NCBIO is the trade association for North Carolina's life science industry. Members include companies and research institutions working in the pharmaceutical, medical device, diagnostic, clinical research and agricultural biotechnology sectors, as well as firms and nonprofits that provide support services to life science companies. Founded in 1994, NCBIO works to help North Carolina's life sciences community fulfill its extraordinary promise as a source of economic opportunity and improved quality of life through effective advocacy and policy.
Congress passed the Inflation Reduction Act on Aug. 12. Included in the law is a provision that gives Medicare Part D the ability to "negotiate" the price of medicines for the first time. Negotiate is in quotation marks because lawmakers are being ironic; no one can legitimately call the new price-setting policy a negotiation.
Read More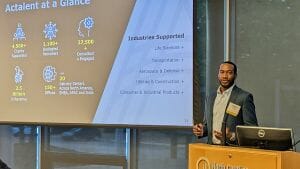 At their quarterly meeting held Wednesday, Sept. 14, members of the NCBIO Biomanufacturers Forum learned about efforts and options for bolstering workforce and talent development in North Carolina. Members also received an update on the $25 million Build Back Better awarded to expand, connect and promote training and career opportunities in North Carolina.
Read More